about neon pink
Edit
Neon pink is a bright color, often a substitute for red in the "neon rainbow."
Neon pink is a very bright shade of pink, and if you put it on the right material shirt, it will glow in the sunlight (like any neon color).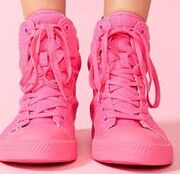 Neon Pink

Some attributes

First
Bright
Second
Pink
Third
Rose petaly

Other attributes
Ad blocker interference detected!
Wikia is a free-to-use site that makes money from advertising. We have a modified experience for viewers using ad blockers

Wikia is not accessible if you've made further modifications. Remove the custom ad blocker rule(s) and the page will load as expected.